THE 500 SUZUKI PICTURE GALLERY
Updated 23 Feb 97
A Suzuki Italy special model. They also did a limited edition called the Vallelunga based on the GT750, ten to full TR750 works spec. and a hundred less potent look-alikes. Suzuki GB did a special based on the GT500, with rearsets, alloy wheels and fairing which they dubbed the Formula 500 (details courtesy Don Leeson – great tank, GT750 drum brake, rear sets etc. Wish they sold these in Australia!
The TR500 line up for the 1971 Daytona 200
The brilliant NZ rider Geoff Perry, tragically killed in a plane crash
The last of the breed, the TR500 MkIII water-cooled motor
The author's 2nd Titan racer
A rare shot of the Bimota framed TR500
The author's 1st Titan racer in the pits being tended by Craig Howe
The author touring on his J model in 1973
The author's 3rd Titan racer
The engine and frame of the author's 2nd Titan based racer
---
Chris Bradley's T500. Chris is in Newcastle on Tyne, GB!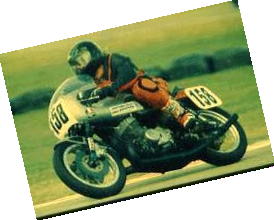 Eric F. Kalamaja's T500 racer – Stateside!
Eric's bike again, as featured in the Japanese Rider's Club mag
The author's femsa kitted T500 racer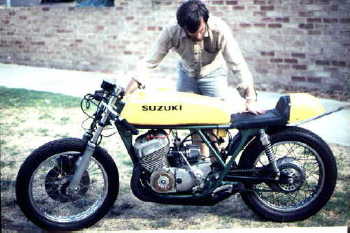 and again
and again
and again!
Ron Grant at Daytona
Two Tr500s flank a GT750 engined sidecar
---
---