In Feb this year the owners of the Zwartkop Raceway, in Pretoria, South Africa, hosted a classic racie bike day, where the feature event was "SA Legends"  As many South African Champions as possible were contacted to take part, and the result was an amazing collection of over 35 past South African motorcycle champions, many of them with their old bikes. Two of these were factory Suzuki two stokes, imported by Suzuki South Africa for local rider Les van Breda to use in the South African national championship. The circuit also brought Mick Grant out from the UK with his 1984 Isle of Man TT winning Suzuki RGB 500 (This is an XR45 factory bike).
The first is a Suzuki XR05  watercooled twin. This must be one of the rarest Suzuki GP bikes around. It was the first of the waterooled  500 cc models.   This bike is still as it last raced in 1975 (when it was completely outclassed by the Suzuki TR 750, and the RG500 raced at the time by Keith Zeeman.  It has never been restored.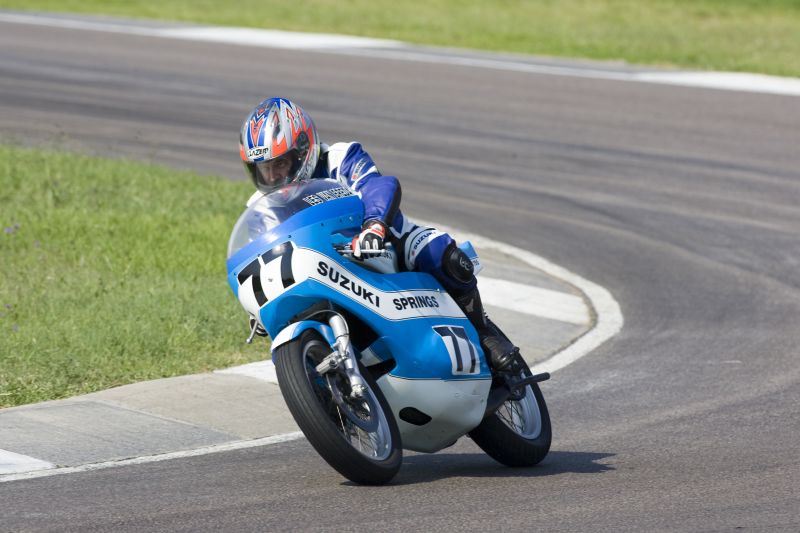 Also out for the day was the Suzuki TR750 raced by Les van Breda. This bike was put on display after a short foray in Europe by van Breda, and has been hanging on a wall for the best part of 25 years. It took two weeks of cleaning and checking ant it was ready to ride.
No 77 Les van Breda on his Suzuki TR 750, no 31, Clive Strugnell on his Suzuki XR05 , both a Zwartkops raceway, 2nd Feb 2008.
Pics courtesy of Clive Strugnell