GT500-B Suzuki
My bikes during the years
The first picture of my T 500, taken in 1979.
I bought it this year for Kr. 5000 = US$ 900.
Note the colour, metallic brown with gold striping, very hot !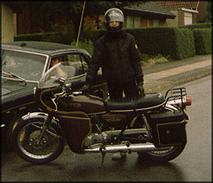 The following year I had more fairing on and saddle bags.
It was difficult to steer with this type of fairing.
Later I had the 500 painted, silver tank, and metallic blue frame.
The motorcycle looked like this for some years.
The handlebar looked great, but the chopper style faded a bit with the engine running.
Then I wanted to have a Rickman fairing on the 500.
It was designed for the GS 750, but with modifications it suited the 500 nice.
Picture is taken in Sweden in 1984.
Another picture from Sweden with the Rickman fairing.
In these years me and my friends visited Sweden every summer.
Sweden is a great country to ride motorcycles in, very good roads, and almost no cops.
This is a picture of my first GT 500, bought as a wreck.
Later it was disasembled and all parts renewed.
On the next pictures you can see the GT project progressing.
The GT 500 from previous picture.
The engine have been tuned, All Speed exhaust system, GT 750 double disc front fork,
Nico Bakker fairing, Raask footrest system and Kawasaki Z 650 saddle.
Now all parts have been painted, and the fairing have been modified to suit the GT 500.
This bike could run about 200 km/h.
Later i sold it, bought it back, and sold it again !
This GT 500 was totally renewed in the engine and repainted.
I sold it later, or rather swapped it with cash and a wreck of a GT 500.
And another GT 500.
I made this GT 500 for a friend of mine.
The picture is taken in front of our house in 1996.
Sometimes I get an offer on a GT 500 for sale.
This one had been in a serious accident, driver killed instantly.
Instruments and fuel tank disappeared in the accident, and were never found again !
Here is my GT 500 B, 1978.
This i it´s first tour to Sweden, it had only run 80 km, when i bought it.
Picture is taken in Linköbing, Sweden, the day we went back to Denmark ( 600 km ).
My latest project is a GT 750B, 1978, engine needs to be restored.
Here are some T 500´s, seen on the racetrack in Linköbing.