The Passing Parade – riders who have passed away – off the track
(Any photos to help complete this tribute to fallen riders gratefully received, also any information on riders I've missed…the focus is on GP riders but any riders of significant international achievement can be nominated for inclusion)
 Walter HANDLEY, 4 times  TT winner – died in a World War II aircraft accident while serving as pilot with the Air Transport Auxiliary in 1941

Tazio Giorgio NUVOLARI: died 11 August 1953 – was an Italian motorcycle racer and racecar driver. Nuvolari started racing motorcycles in 1920 at the age of 27, winning the 1925 350cc European Championship. He won the Nations Grand Prix four times between 1925 and 1928, and the Lario Circuit race five times between 1925 and 1929, all in the 350 cc class on a Bianchi motorcycle.

Tazio Nuvolari won the Circuito del Lario roadrace, often called the Italian TT in 1929. The race was extremely dangerous as it was run on public mountain roads around Lake Como which were closed to traffic during the race. The circuit was 22.7 miles (36.5 km) long with 300 curves, 50 of which were hairpins since the course cuts through the famous Ghisallo mountain pass. There is an elevation change of 1,805 feet (550 meters) during the course of the race and the road conditions were deplorable even by 1929 standards. But Tazio was legendary for his ability to handle stress and adversity. In 1925 at the Italian GP he crashed his Alfa Romeo P2 into a tree after the gearbox seized and was sent to hospital and ordered to rest for a month. But just one week later heavily bandaged he entered the Italian motorcycle GP and won the race. He had to be lifted on and off the motorcycle. As a motorcycle racer he'd won four consecutive 350cc Italian GPs (Gran Premio delle Nazioni) between 1925 and 1928, riding for Bianchi. On September 3rd 1939 Nuvolari won the GP of Belgrade, the last GP of the Golden Era for the Second World War which had started two days earlier. His life was not all victories, he lost both his sons Giorgio and Alberto before they reached the age of twenty. In 1953 (by now was partly paralyzed) he died from an illness and was buried in his "racing uniform" with helmet, yellow jersey and blue trousers.

Laurie BOULTER – road accident in IOM 1954 – killed before official practice . Laurie Boulter had finished 11th in the '53 Senior and had returned in '54 along with Maurice Quincey and Jack Ahern to officially represent Australia. Before official practice started, Laurie was killed on his bike after running into a reversing car near Handley's Corner.  Born in Adelaide, Australia, he began motorcycle racing in 1935 in beach races and scrambling (later motorcross) and quickly gained success becoming one of Australia's top riders. WW2 interupted his racing but after the war, he started a motorcycle business in Torrensville, and returned to racing becoming unbeatable in South Australia. In 1952 he bought a 500cc Manx Norton and came second in the Australian Grand Prix at Bathurst.

The following year he took his bikes to the Isle of Man TT races finishing 26th in the Junior and a remarkable 11th in the Senior races. He returned to Australia with no plans to return to the Island however with further wins under his belt, he was chosen to be a member of the official Australian team of riders to return to the Isle of Man in 1954. Whilst practising on the circuit he saw his countryman Ken Kavanagh walking the circuit between the 11th Milestone and Handley's Corner and turned to wave to him. That moment of inattention cost him his life as he crashed into a car reversing out onto the road on a blind bend ahead of him. He was thrown over the car and struck a stone wall. The driver, a Dr Letchworth, was the official doctor for the races but he could do nothing for the rider. To avoid the Doctor's arrest, Kavagagh later admitted he'd lied under oath at the inquest. Boulter is buried in Braddan Cemetery, Isle of Man. (Detail by Paul Narramore)

Leo SIMPSON (NZ) –1955 – boat accident

Werner HAAS: 13 November 1956 – Plane crash in Germany – Werner was world Champion in both the 125 and the 250 classes in 1953. Also 250 World Champion in 1954 on his NSU.

Libero LIBERATI – 1962 – Road accident

 Graham William WALKER – (1896 – 7 September 1962) was an English motorcycle racer, broadcaster and journalist. Won the Ulster Grand Prix on a Rudge Ulster in 1928. Walker also won the 350cc class at the 1931 North West 200, on a Rudge. Won the 250cc class in 1931.

Gary HOCKING – race car crash Natal South Africa – Dec 1962

Ewald KLUGE: died 19 August 1964 –  first German rider to win the Isle of Man Tourist Trophy in the 1938  Lightweight TT riding a German bike DKW.

Cyril PULLIN – died 1965 – In 1914 Cyril Pullin won the Isle of Man TT with a record average of 49.49 mph on a Rudge Multi. On 23 March 1922 at Brooklands Pullin established a new record and became the first ever British motorcyclist to be timed at over 100 m.p.h.

Gus KUHN – 1966 – died at home – motorcycle pioneer racer and businessman

Gustav HAVEL – Road accident – 1967

Harold DANIELL –  died 16 Jan 1967 – ex TT and GP racer. 3 TT wins and noted for coining the phrase 'featherbed' frame whilst riding a Norton.

Alain BARBAROUX – road accident – 20 Sep 1968

Dave SIMMONDS –  October 23, 1972 in Rungis, France – 1969 125 cc road racing World Champion. The victory marked the first world championship for Kawasaki.  Simmonds was tragically killed in 1972 by an exploding gas cylinder, during a fire in Jack Findlay's caravan, whilst attending a non-championship race at Rungis in France.

Werner PFIRTER – September 1973 – Werner Pfirter was a Grand Prix motorcycle road racer from Switzerland. His best year was in 1971 when he finished in sixth place in the 350cc world championship. Werner and his mechanic were killed in a road accident in 1973 while driving home from the Spanish Grand Prix.

Alec BENNETT – (1897—1973) was an Irish-Canadian motorcycle racer famous for motorcycle Grand Prix wins and five career wins at the Isle of Man TT Races.

Ken REDFERN – England 1973 (road accident)

Geoff PERRY – plane crash Tahiti July 1973 (submitted by Geoff's wife – Jan Hendl)

Terzo BANDINI – Died 1974 – Moto Guzzi factory rider in the 1930s, three-times winner of the Italian Motorcycle Championship

Werner BERGOLD – killed in motorcycle road accident – 1 Dec 1975

(Pic – Paul Narramore – www.findagrave.com)

Randy CLEEK: 3 April 1977 Imola Italy. Randy Cleek began racing in 1965 aged 10 and at the age of 16 he competed in the Novice class, finishing 11th overall in the dirt-track national series. In  1973 Randy began his road racing career at Daytona. He won the short track championship at Tri City Speedway, Granite City, Illinois.   In 1974 Randy scored 2nd in the Marlboro International Motor Race Series, behind Pat Hennen in NZ. In 1975 he traveled to Great Britain, taking part in the Trans-Atlantic Match Races. In 1976 he finished 8th in the Daytona 200 before joining the John Player Transatlantic USA team, racing in the F.I.M. Formule 750 series in Europe.  The 200 Miglia AGV Imola race a round of the 1977 Formule 750 World Championship was scheduled  for 3 April 1977. The first heat saw Pat Evans fatally injured. Riding a Yamaha TZ750A  Randy finished 8th in the second heat.  Randy with other competitors and journalists were invited to a post-race banquet at the Molino Rosso hotel in Imola. late that night Randy decided to return to the Riolo Terme hotel, 13 kms south of Imola. The car he had rented crashed and rolled end over end crashing into a car coming in the opposite direction. Randy Cleek was killed along with 5 others. One of the first rescuers on the scene was British racer Piers Forester who had participated in the Imola 200. Sadly Forester would lose his life less than six months later during a BRC Formula 750 race at Brands Hatch, riding a Yamaha TZ750A.

 Carl HAMMERSLEY: April 1977. A well known and very successful Australian road racer. Died in the Adelaide Hills when his sidestand caught in a corner. Carl was running in a bike for a production race.  

Burt MUNRO – Jan 1978 – New Zealander who rode 1920 Indian to a 1967 Land World Speed Record

 Harry HINTON –  an Australian former Grand Prix motorcycle road racer. His best season was in 1950 when he finished ninth in the 500cc world championship. Hinton was the first Australian to score points in the premier 500cc division. After being injured in a crash at the 1951 Isle of Man Junior TT, Hinton left the European racing circuit, but continued to race in  Australia. He died in 1978, at the age of 67.

 

Reg ARMSTRONG – car accident – Nov 1979

Bryan HINDLE – 1978 – Ultra-light plane crash

 Eric Staines OLIVER – (13 April 1911 – 1 March 1980) was an English motorcycle racer best remembered as four time FIM Sidecar World Champion, riding a Norton. He is also remembered for being the first sidecar competitor to use a dustbin fairing, rear suspension and to adopt the kneeling riding position.

Mike HAILWOOD – England 1981 (killed in car accident) –  On 21 March 1981, Mike's car collided with the rear of a truck which was making an irregular u-turn along the A435 at Portway, near the Warwickshire / Worcestershire border. Mike's nine-year-old daughter Michelle was killed in the impact. Mike and his son David were taken to Birmingham hospital. Sadly, Mike Hailwood died of his injuries two days later, on Monday, 23 March 1981.

George O'DELL – House fire at Hemel Hempstead, Hertfordshire, England – died Monday 23 March 1981 – 1977 World Sidecar Champion. George was only 35 years of age.

Carlo BANDIROLA – died 22 Sep 1981 – ex GP rider

Bob FOSTER – died 22 March 1982 – GP and TT rider

 Henry George TYRELL-SMITH – (1907 – 1982) was an Irish motorcycle road racer. He raced at the Isle of Man TT from 1927 to 1939, and between 1929 and 1936 competed in the German Grand Prix. He also raced in The Swedish Grand Prix in Saxtorp 1933-36. Won the 1930 500cc European Championship for Rudge.

Jack BRETT – died 28 Dec 1982 – GP and TT racer  

Ernst DEGNER – died 10 Sep 1983 – MZ rider who defected to the West and Suzuki in 1961 

 

Paul WEYRES:  died 2 October 1984 – During his career, Paul Weyres competed in around 400  races. Of these he would win on his Harley-Davidson more than 100. Including  winning the Grand Priz of Switzerland in 1931, 1932, 1933 and 1936, winning  the Swedish Tourist Trophy in Gothenburg in 1932 and his success at the  Nürburgring in 1932, 1933 and 1934. During the years 1931-1934 he was four  times German champion in the sidecar class .

 Victor PALOMO – died of heart attack  11 February 1985. Former GP rider.

Dale SINGLETON: died 1 September 1985 –  aircraft crash. Dale was a two-time winner of the "Daytona 200" in 1979 and 1981, winner of the 1981 AMA road race Championship.

Gary PADGETT (#60) – road accident 1986

 Frederick Lee "Freddie" FRITH OBE – (30 May 1909 – 24 May 1988) was a British former Grand Prix motorcycle road racing World Champion. 4 TT wins and the first 350cc world champion in 1949.

Paul LODEWIJKX – Dutch GP champion – drowned August 1988

Marco GENTILE: died in home built plane crash – 19 November 1989 – Winner of the European Championship 500 class in 1985. Rode a Fior in the GPs.

Peter BUTLER: March 1991 – died in hospital after illness. Peter was best known as a Boyers of Bromley rider, partnering Dave Nixon on the Triumphs to their successes in the late sixties and early seventies.

George CATLIN – UK 1992 (died of illness) (pic courtesy Helmut Ohner)

 Helmut FATH  – born 24 May 1929 in Ursenbach, died 19 June 1993 in Heidelberg , was a German sidecar racer and engineer. He won the Sidecar World Championship in 1960 and 1968.

Rodger FREETH – Bathurst winner – killed in rally car crash at Perth WA- 18 Sep 1993 

Stanley WOODS – 10 TT wins – died 1993  

   

Ron GRANT – died in boating accident on 29 Dec 1994. Was a successful Suzuki factory racer in the late 60s and early 70s. 

Greg HANSFORD – Phillip Island 1995 (killed in race car crash) 

Juan Lopez MELLA – killed in car crash 1995

Heinz LUTHRINGSHAUSER – died 1997 – German Sidecar Champion in 1970

Jan BRUINS: – died 16 April 1997 of illness. Jan Bruins was a former Grand Prix motorcycle road racer from the Netherlands. He had his best year in 1972 when he won the 50cc Yugoslavian Grand Prix, and finished the season in fourth place.  

 Ricky GRAHAM: – died 22 Jan 1998 in a house fire. Three-time AMA Grand National Champion and 1993  AMA Athlete of the Year

Ricardo TORMO – multiple 50cc and 125cc GP World Champion – died of leukemia on 28 December 1998

Georg MEIER – Died Feb 1999 – Winner of the 1939 IOM Senior TT race on a supercharged 500cc BMW. 1st first foreign rider to win the senior TT and 1st to ever lap a GP circuit at over 100 MPH.

Malcolm UPHILL – asbestosis 1999

Guido MANDRACCI: died 5 January 2000. In the Italian Junior Championship of 1969 achieves third place in the 125 class, winning races Monza and Sanremo , riding a Aermacchi Aletta Gold. In that year, reported by Vittorio Brambilla , was also among the invited riders from Moto Guzzi for practice sessions aimed at achieving the world speed record with the " V7 Sport prototype ".

In 1970 he switched to the "Senior" class,  getting second place in the Italian Championship in the 350 with a Yamaha , behind Giacomo Agostini. Next year the Ligurian made his debut in the MotoGP , using the Yamaha discontinued by Kel Carruthers , getting his first points of the season at the Grand Prix of Austria 's 250 , and winning the Italian 250 title. With a Suzuki 500 supported by SAIAD (Italian importer of Suzuki) was second in the GP of Austria in 1972.

In the three years the 1970 – 1972 Mandracci runs as Guzzi rider in endurance races and 200 miles of  Imola : the Bol d'Or '71 was third (paired with Brambilla), while the following year he was fourth (with Raimondo Riva as a companion). In 200 miles of Imola '72 was eleventh.

For the '73 season Mandracci was hired, along with Jack Findlay, by the Suzuki Racing Team Europe , supported by Saiad, running in 500 and 750 classes, but without abandoning the races Endurance. Among the victories should be noted the 1000 miles of Imola '73 (race held over two days in two runs 500 miles) paired with Findlay. In the same year became the first Italian rider to compete in the Daytona 200 , where he was forced to retire due to a fault on Suzuki 750, when he was in 4th position.

After retiring from racing, he devoted himself to go karts (with whom he had run even in his youth), establishing a team and promoting the construction of a kart track at Arma di Taggia , opened in 1993.

He died in 2000 , died of a heart attack while he was on holiday in Limone Piemonte.

Dorino SERAFINI: died 5 July 2000 – winner of 1939 500 World Championship on a Gilera.

Matteo CAMPANA: July 2001 – died in motorcycle road accident – was Ducati SBK racer

 Jim BUDD:  28 July 2001 – Two-time Castrol Six-Hour winner Jim Budd sadly passed away on July 28, 2001, aged 50 after suffering a stroke. Teaming with Roger Heyes on the Avon Tyres Kawasaki Z900, the pair won the 1976 Castrol Six-Hour at Amaroo Park.  In the 1977 race – Budd and fellow Avon teamster Neil Chivas finished second behind the Joe Eastmure/Keb Blake BMWR100S entry –Heyes and Budd combined on an Avon Yamaha XS1100 to take out the 1978 six-hour.  In 1979, Budd rode a Honda CBX1000 at Bathurst as well as the Phase 4 Engineering Kawasaki Z1000 in the inaugural Arai Three-Hour, which he decked in the latter stages of the race on a damp and dark Mount Panorama. In the 1979 Castrol Six-Hour, Budd teamed with former Australian Unlimited Champion Greg Pretty on a Pitman's Yamaha XS1100 to finish second yet again.

For 1980, Budd was given the chance of a life-time when he was drafted into one of the most formidable combinations in world road racing at the time – Team Kawasaki Australia alongside the great Greg Hansford under the management of Neville Doyle. Budd and Hansford teamed up on the works Kawasaki Z1000SR endurance racer at the Arai 500 at Bathurst in 1980, and after Hansford duelled furiously with Neill in the opening stages of the race, the bike expired with clutch problems. The pair teamed up on the Z1000SR for the Bol d'Or, but a batch of bad fuel spoiled Jim's one and only race in Europe. After leaving TKA after one year, Budd rode for Bathurst sponsor WarrenTaylor in the early '80s. He suffered a career-ending accident at Amaroo Park when he was run over ironically by Neil Chivas, sustaining serious head injuries that prompted his retirement. However, he made a well-publicised comeback in 1987 on a Yamaha FZR1000 for what turned out to be the final Castrol Six-Hour at Oran Park. Budd qualified an amazing third and after running as high as fourth, co-rider Simon Pinnington crashed the bike out of contention in what would be Jim Budd's swan-song race. Jim Budd was one of the best exponents of big-bore racing of his era. His legacy will remain his skill and daring on the track and his humble and quiet demeanour off it.

Walter VILLA – June 2002 – World 250cc Championship titles in 1974, 1975 and 1976, and the World 350cc Championship title in 1976 on HD. Died of a heart attack.

Dick HAMMER:  died 16 January 2003 – AMA Grand National rider and Daytona lightweight class winner in 1963.

Steve HISLOP – Scotland (helicopter crash) – Died Jul 2003

Barry SHEENE: 2003 (Cancer) – 1976 and 1977 saw him win the 500cc World Championships.

Peter INCHLEY: 12 Feb 2003 – sadly passed away. TT rider in the 60s and developer of the Hi_Tac Suzukis. Derek Minter and Peter Inchley took a Cotton "Conquest" to a class victory in the 1965 500-mile race at Castle Combe. Peter Inchley, an acknowledged two-stroke expert, formerly from Ariel and BSA was involved with the AJS 250 Road Race project. Peter rode a Bultaco-based 6-speed, 250 Villiers Starmaker-powered special to 3rd place in the 1966 Lightweight TT.

Rest in peace Peter.

David WOOD – passed away Tuesday, May 25th 2004 in Belfast having been ill for some time. In 1980 David was the Irish 200cc champion and manager of Joey Dunlop through most of his glory years.

 Dave BROWNING: 4 April 2004 – died of a massive heart attack. 1965 saw Dave on a Gloucester built Cotton Telstar gaining many wins, eventually being 'poached' by the Herring Yamaha team and going on to win the British 250cc Championship. A car accident in 1973 left Dave seriously head injured which ended his racing career.

Simon 'Ronnie' SMITH – Performance Bike writer and TT racer – died after motorcycle accident in 2004

Tarquinio PROVINI – won 1957 125cc World Championship on a Mondial, and the 1958 250cc World Championship on an MV Agusta.

Died 6 January 2005

Rob PUNT – Dutch GP rider – died February 2005

Harry TAYLOR:  b. 1929 d. 2005 – Successful Western Australian sidecar  and solo rider – competed across Australia, at the IOM TT and Europe in the 50s and 60s.  (Click on link to  page of photos– kindly supplied by Ralph Taylor)

Ernest HENNE – died 23 May 2005,  aged 101. Successful BMW motorcycle racer in the 1920s and 1930s, and a multiple motorcycle World Land-Speed record holder.

Jaroslav HULES: (July 2, 1974 – July 7, 2004) was a Grand Prix motorcycle road racer from the Czech Republic. He died of injuries from a suicide attempt on his thirtieth birthday. Sadly Jaroslav had suffered from severe depression.

Bernard SCHNIEDERS – October 2005 – Died of illness

Umberto MASETTI – Died May 2006. In 1950, Masetti won the Grands Prix of Belgium and the Netherlands and defeated Geoff Duke for the 500cc World Championship.

In1952, still with Gilera, he was again World Champion, again taking victories in Belgium and the Netherlands.

Pat MAHONEY – badly injured at Brands Hatch 1975 – died 2006

Kent ANDERSSON – died unexpectedly aged 64 in Aug 2006 – GP Championship wins 125cc – 1973, 1974

Lance WEIL – Workshop accident – Sep 2006

Cliff CARR: Seventies road racing star Cliff Carr passed away in hospital on Wednesday, January 10 2007 after suffering a liver-related disease. Sixty-two-year-old Carr came from Leyland, Lancashire but, after establishing himself as a top class national racer in the UK, he went to live in the States and earned top class rides. This was initially with Arlington Motorsports Kawasaki in 1973 where he rode the infamous H2R two-strokes and worked with famed tuner Kevin Cameron.

Carr also rode factory Suzuki TR750s alongside Ron Grant, Gary Nixon and another Brit Paul Smart in1974. Smart said: "He was top class racer but also a great character and always had a good tale to tell."

After racing Carr ran a Harley-Davidson franchise in Santa Barbara, California and then returned to the UK where he continued to be involved in various motorcycling activities including a spell promoting speedway at Sheffield.

Herbert PRUGL: sidecar racer – Died January 2007

Alois MAXWALD – Died January 2007

Walter BREHME – Died January 2007

Bart MARKEL – Died Feb 2007 – 3 times AMA Grand National Flat Track Motorcycle Champion

Paolo PILERI – World GP Champion – Died February 2007

Bruno RUFFO – World GP Champion – Died February 2007

Wolfgang KALAUCH – Died Feb 2007 – 1968 & 1970 World Champion Sidecar Passenger

Georg AUERBACHER – TT sidecar racer, died March 2007 – aged 73

Bob MITCHELL – Died March 2007. The Sultan of Slide – Sidecar Racer. Bob Mitchell's record still stands as Australia's most successful sidecar racer at world championship level. And all with a self-tuned Manx Norton 500 engine. He recorded two world championship Grand Prix podium finishes, fourth place in his Isle of Man TT debut and fourth place in the 1956 world sidecar championship. He was the only post-WWII rider to win the Bathurst Unlimited sidecar race on a single-cylinder machine.

Jack FINDLAY – Emphysema – 19 May 2007

Alan SHEPHERD – Died 16 July 2007 – MZ GP rider in the 50s and 60s

Bill LOMAS – Died 14 Aug 2007 – 1955 and 1956 350cc World Motorcycle Racing Champion

Noriyasu NUMATA – Former GP rider, killed while tyre testing for Dunlop – Sep 2007

Siegfried HAASE – former GP rider – died Oct 2007

Norifumi ABE – killed in a street crash when his motorbike collided with a truck making an illegal U-turn – 7 Oct 2007.

 

 Alan HALES: 17 November 2007 – Popular former racer Alan Hales was killed in a motorcycle crash on the Old Pacific Highway NSW Australia. Mr Hales, 61, was riding his motorbike with a group of friends at Mooney when he apparently lost control of his bike on a lefthand bend and hit the steel railing.  He suffered extensive injuries in the crash and died at the scene.


Alan Hales was a successful motorbike racer who won the famed Castrol Six Hour Race at Amaroo Park in 1979 and at one point held the lap record at almost every circuit in the country.

Ernst HILLER – died February 2008

Emilio MENDOGNI – died February 2008

Duilio AGOSTINI – Moto Guzzi test rider, winner of the 1953 Milano-Taranto road race and winner of the 1955 French 350 Grand Prix 350 – died 2008

 Ryan FLINT: died October 2008 – Western Australian Sidecar champion

Rob BRON – passed away 05 October 2009  aged 66. Rob in 1971 was 3rd in the GP behind Keith Turner (1point diff.) and Agostini 

 Greg PRETTY: 16 January 2010 – Greg died in a road accident in the Adelaide Hills, Australia. Pretty, 54, an airline pilot from Enfield (Adelaide), was riding his Honda with a group of friends on Saturday, January 16. First reports suggested that another rider (Mostyn Walker)  had veered onto the wrong side of the road and the riders had hit head on, killing them both. However "the coroner's inquest  found that Greg Pretty, not Mostyn Walker, had been on the wrong side of the road. Pretty had caused the fatal crash; he had caused Walker's death, not the other way around."  Greg Pretty won the 250 Production race at Bathurst in 1976 and from 1977 began racking up wins in long-distance Production races, In 1978 Pretty won the South Australian round of the national championship on his personal Yamaha TZ750. During the 1979 season, he won the Australian Unlimited Ro

ad-Racing Championship, the Swann Insurance International Series , the non-championship Indonesian GP and the Sugo Big Road Race in Japan. He also won the Adelaide Three-Hour and Perth Four-Hour Production races, and finished second in the Castrol Six-Hour, on a Yamaha XS1100. Greg went to England as a private rider in 1980 and struggled. Greg competed in the 1980 Isle of Man TT. He only had the Yamaha 750, so he was only eligible for one race, the Classic 1300cc TT. Greg came home in 1981 and restarted his partnership with Yamaha Pitmans. In two months Pretty won the Coca-Cola 800 and the Arai 500 on a chain driven Yamaha XS11 Pitman built, and the  Bathurst Unlimited Race on his TZ750F.  

 Art BAUMANN – sadly passed away February 2011 – Baumann was a very fast Kawasaki rider in the 1960s and 1970s and competed in all of the major events of the day, including Daytona and at Laguna Seca.He was teamed with Yvon DuHamel and Gary Nixon in the  '70s Kawasaki race team.   

 

  Peter DAVEY: March 2011 – ex GP rider, TT rider and "Cock   of the North."

 Gary NIXON: January 25, 1941 – August 5, 2011 – was an American motorcycle racer who, when on Triumph motorcycles, most notably won the A.M.A. Grand National Championship in 1967 and 1968. He was also a former winner of the Daytona 200 motorcycle race on a 500cc Triumph, claiming a victory in the 1967 event. Nixon was also known for his partnership with legendary tuner Erv Kanemoto when they won the 1973 U.S. National Road Racing Championship for Kawasaki. In 1976 he competed at the international level, laying claim to the Formula 750 world championship on a modified Kawasaki KR750[3] until international politics denied him that prize. He was inducted into the AMA Motorcycle Hall of Fame in 1998 and the Motorsports Hall of Fame of America in 2003. He last resided in Maryland and participated in vintage motorcycle racing as well as testing motorcycles for the locally produced syndicated public TV automotive review program MotorWeek.Nixon suffered a heart attack on July 29, 2011 and died on August 5 from complications. He was 70.

Donny WILLIAMS – 16 November 2011 – TT Sidecar passenger – killed in workplace accident at the Airbus facility in Broughton Wales.

Cees van DONGEN: 23 December 2011 – died of illness aged 79. His best season was in 1969 when he won the 125cc Spanish Grand Prix and finished the season in third place behind Dave Simmonds and Dieter Braun

.

Mark WILLIAMS – January 21, 2012 of pneumonia, after spending from 1975 until he died, paralyzed from the waist down from a crash on his motorcycle in 1975 while he was standing at #1 in the AMA TT Official standings  

 

EJ Potter – aka The Michigan Madman died of ilness at age 71. Potter was well known for his V-8 and jet powered drag racers.

---

 Andrew JOHNSON:  – passed away 21 September 2012 from illness – champion Australian  motorcycle racer – a valiant rider who overcame the odds – a great loss to the sport.

 

Peter SULLIVAN: 28 September 2012 – West Australian speedway sidecar passenger – see photos here –

   

 

Jeff GITTUS – 16 May 2013 – killed whilst riding his Aprilia motorcycle when he collided with a car in Stirling Highway, Nedlands, Western Australia. Jeff is an ex Speedway sidecar passenger and Australian champion –   See photos here

  

Denis GALLAGHER:   28 May 2013 – passed away,aged 75,  after a long career that   spanned 55 years, he won numerous Scottish and Irish championship titles.  His first Irish title, 100-mile Champion, was won at the Carrowdore 100 in 1965. Forty-five years later at the age of 72, he showed that the old touch was still there by winning the 350cc Irish Classic Road Race Championship.

Piet VAN DE WAL: Former motorcycle racer and collector Piet van de Wal died after years of illness at the age of 68 on June 10, 2013. Van de Wal was a successful motorcycle racer in the 60s and 70s and a regular in the 500 class at the Assen TT.

  

Keith BRYEN: 22 October 2013 – Australian – International racing motorcyclist, "Continenal Circus" member 1953-57. His best season was in 1957 when he finished fourth in the 350cc world championship.

Hideo KANAYA: Hideo Kanaya, (born February 3, 1945 – died 19 Dec 2013) is a former Grand Prix motorcycle road racer from Japan. Kanaya began his Grand Prix career in 1967 and won his first Grand Prix at the 1972 250cc German Grand Prix. In 1972, Kanaya and Jarno Saarinen raced the first four-cylinder, two-stroke Yamaha TZ 500 in the 500cc world championship. After Saarinen's death in the 250cc race at the Italian Grand Prix at Monza, the TZ 500 project was put aside and Kanaya raced only in the 250cc class. Kanaya's best season was in 1975, when he finished third in the 500cc world championship behind his Yamaha team-mate, Giacomo Agostini and MV Agusta's Phil Read. He also won the Macau Grand Prix in 1975. 

Rob GREENHILL: Died January 2014 – Rob was a keen constructor and racer of Suzuki 500 machines. He specialised in a Spondon Suzuki TR500. A sad loss to the sport and his family.

Mick WOOLLET: 18 Feb 2014 – professional sidecar passenger in the 50s, retired from racing to concentrate on motorcycle journalism, editing and photography. Author of numerous motorcycle books. Passed away at the age of 84.

Denny MCCORMACK: 25 March 2014 – champion South Australian racer who achieved success in 1974-75 before retiring after a serious fall and injury at Adelaide International Raceway.

Russ COLLINS: Died May 2014 of cancer. Collins was a professional drag racer, he built a series of ever-more radical and successful drag bikes, powered by one, two, and three CB750 engines. Beginning with a four-into-one exhaust pipe, he took his ideas beyond sport to create an industry.

Husni Aizat Abdul MALIK: 25 May 2014 – 19 years of age, Malaysian GP motorcycle rider, sadly died after a traffic accident in  Kota Tinggi, Johor Baru after losing control of his motorcycle and striking a lorry.

Dennis CRAINE: winner of the 1965 Lightweight Manx Grand Prix passed away at his home in Western Australia on Saturday 12 July 2014. Born in 1933 at Sulby Bridge, Sulby, Isle of Man, Dennis started riding motorcycles at 15 taking part in local Moto-cross (scrambles), Trials and short circuit racing at Jurby. He also competed in two Scottish Six Day and three International Six Day Trials. Dennis commenced Road Racing in 1961, after being a Travelling Marshall for five years.

Riding 350cc & 500cc Norton's for Geoff Duke he gained three replicas in the Manx Grand Prix, before winning the 1965 Lightweight (250cc) on a Greeves at record average speed of 88.37mph. He rode a Royal Enfield 'Special' for Geoff Duke in T.T. 1966 in his only TT appearance, but retired during the race. The family emigrated to Western Australia in 1967, and Dennis continued to compete in all classes of motorcycle competitions, becoming State Champion in Motocross and Short Circuit Trials, and Inaugural Enduro Events. Dennis worked for both Yamaha and Suzuki, before he and Kathleen started their own business-importing Danish Engineering Machinery before retiring and lived in Mandurah-south of Perth.

Ralph BRYANS: passed away 7 August 2014 – In 1965, he won the 50 cc World Championship aboard a factory-sponsored Honda. Bryans started road-riding on a BSA Bantam when working as a sixteen year old apprentice fitter. He entered his first race, the 1959 Tandragee 100, on a borrowed Ambassador 199 cc. For the 1960 season, he fitted a Triumph Terrier 150 cc engine to his Bantam frame, winning the 1960 Irish 200 cc Championship.

For the 1961 season Bryans then progressed to a 1958 350 cc Manx Norton provided by sponsor James Wilson, an insurance broker, further learning his skills in company of established racers Tommy Robb, Dick Creith and George Purvis.  In 1962, Bryans first entered the Isle of Man TT and later in the Ulster GP was placed ninth in 350 cc class riding his Wilson-Norton and tenth in the 500 cc class on a Reg Dearden Manx Norton. In December of 1962, Bryans arranged to ride Joe Ryan Nortons during 1963, when he was first noticed by Jim Redman at the Ulster GP. Bultaco signed Bryans after "guest riding" their machines in Spain, but allowed Bryans to take advantage of a later offer from Honda to ride works machines in 1964, during which he was placed second in the 50 cc class and third in the 125 cc TT races.

Derek MINTER: Derek Minter (27 April 1932 – 2 January 2015) was a British former Grand Prix motorcycle and short-circuit road racer. A versatile rider, he rode a variety of machinery between 1955 and 1967 at increasing levels of expertise and in varying capacities and classes. His best season was in 1958 when he finished the year in fifth place in the 500cc world championship. In 1960, Minter won the North West 200 race in Northern Ireland. In 1962, he won the Isle of Man 250cc Lightweight TT. Minter's success continued with Steve Lancefield preparing his engines until 1960 when he became the first rider to lap of the Isle of Man TT course at over 100 mph on a single cylinder machine. This led to other rides with Bianchi, Moto Morini and MZ. After 1961 Ray Petty from Farnborough, Hampshire prepared the Norton engines. In 1962 Minter won the 250cc TT on a Honda 4 provided by importers Honda Ltd. For the 1963 season Minter signed to ride in Championship races for Geoff Duke's Scuderia Gilera team (also known as Scuderia Duke) with new team mate John Hartle whilst planning to continue riding Nortons in home short circuit races. The team was devised by Duke to challenge the domination of Mike Hailwood on the MV and had early successes at Silverstone, Brands Hatch and Imola, Italy. In May 1963 whilst riding a 500cc Manx Norton at Brands Hatch, Kent, Minter was involved in a battle for the lead with Dunstall Norton rider Dave Downer on a 650cc Dominator twin. During a last lap accident Minter suffered serious injuries and Downer died. Minter soon recovered from his injuries, coming 2nd to Mike Hailwood's MV. The Scuderia Duke team was disbanded at the end of 1963. Minter went on to achieve many more wins on Manx Nortons, a 250cc Cotton Telstar and for 1966 Seeley 350s and 500s. Midway through the season he changed bikes to again ride Nortons fettled by Farnborough's Ray Petty and entered by his old associates at Hallets of Cantebury,before retiring as a professional road-racer in 1967. At Brands Hatch racing circuit, the Portobello Straight was renamed Derek Minter Straight. So successful and popular was Minter at Brands Hatch that commentator Murray Walker referred to him as "The King of Brands." In the 1990s he returned to the tracks to ride Summerfield Manx machines in leisure classic events until an accident at Darley Moor in 2000 finally ended his sport-riding career.

Frank PERRIS: (May 28 1931 – March 17 2015) was a Canadian Grand Prix motorcycle road racer and TT rider from Toronto. Perris was noticed by the Suzuki team after his third-place in the 1961 500 cc World Championship, becoming a contracted-rider from 1962 until 1966. His best season was in 1965 when he won two 125cc Grand Prix races aboard a Suzuki two-stroke, and finished the year in second place in the 125cc world championship behind Hugh Anderson. Perris then retired to South Africa running a business for two years but, with a hankering to race, returned to England entering the 1968 TT riding Suzukis for Eddie Crooks and again for half a season in 1969. For 1971 Perris was provided with a new Yamaha TD2 by Lord Denbigh Rollo Fielding, with Suzuki GB providing a Suzuki Daytona TR500 on which Perris claimed third place at the 1971 TT.

Geoff DUKE: Geoffrey Ernest Duke OBE (29 March 1923 – 1 May 2015) was a British multiple motorcycle Grand Prix road racing world champion, winning six world championships and six Isle of Man TT races. First entering the Isle of Man Manx Grand Prix in 1948, he retired after four laps of the Junior race. He came to prominence after the 1949 events, finishing second in the Junior race, after remounting due to a spill, and winning the Senior race with a record lap and race-average speeds. He also won the 1949 Senior Clubmans TT. He signed to the Norton works team for the 1950 TT, finishing second in the Junior TT and breaking both lap and race records in the Senior TT.

After winning three World Championships for Norton, he moved abroad to Italian motorcycle manufacturer, Gilera in 1953. With Gilera, he had a string of three consecutive 500 cc world championships. His support for a riders' strike demanding more start money led the FIM to suspend him for six months, dashing any hopes for a fourth consecutive title.  In 1955 he was declared the first rider to lap the Isle of Man TT course at 100 mph, though this was later corrected to 99.97. His final race was the 1959 Nations Grand Prix. In 1963, he formed a racing team – Scuderia Duke, with riders Derek Minter and John Hartle – to race the 1957 Gileras against Mike Hailwood riding the MV Agusta.

Duke was the most famous rider to adopt one-piece leathers – he had enlisted his local tailor to make the first of his now famous one-piece race suits. He was named Sportsman of the Year in 1951, awarded the RAC Segrave Trophy and, in recognition of his services to motorcycling, was awarded the Order of the British Empire in 1953. Highly honoured by the Isle of Man, where he made so many of his world record breaking rides, a point on the Mountain Course has been named after him. Three sharp bends at the 32nd Milestone between Brandywell and Windy Corner now carry the title 'Duke's'.

After retiring from racing, Duke became a businessman, initially in the motor trade and later in shipping services to the Isle of Man. In 1978 he was instrumental in setting up the Manx Line that introduced the first roll-on-roll-off ferry service to the Isle of Man in competition with the 150-year-old Isle of Man Steam Packet Company The FIM named him a Grand Prix "Legend" in 2002. He died, at the age of 92, at his home on the Isle of Man on 1 May 2015 after being ill for some time.

Eric Robert DEBENHAM:  3 May 2015 aged 88. A legend in Australian road racing for his success on Vincent engined machines.

John WEBB: passed away 12 May 2015 – popular English Suzuki rider

Charlie HUGHES: 31 May 2015 – former racer from Warrington, sadly lost his life in a road traffic accident on the mountain in the Isle of Man. Charlie raced Yamaha TZs, and was the brother in law of the late Graham Waring.

 Juan GARRIGA: 27 August 2015 – killed in a streetbike crash today in Spain. Garriga raced both the 250 and 500cc world championship from the late 1980s until the late 1990s. He also made a few WSBK appearances while Ducati was controlled by the Castiglioni family. Garriga finished second in the 250cc world championship in 1988, winning three Grand Prix races that season. Garriga had a turbulent life off the track but was renowned for his aggressive riding style.
Warren WILLING: passed away 4 September after a long battle with cancer, Brilliant  rider and team manager much remembered for his thrilling dices at Bathurst with Greg Hansford in the early 70s.
---
Dennis NEIL: 15 Sep 2105 – passed away in hospital. Dennis was a popular racer in the 70s and 80s in Australia.
---
Kevin CASS: passed away 11 Oct 2015 aged 76. Kevin was a Grand Prix motorcycle road racer from Australia. He is best known for his motorcycle racing career in the 1960s in both Australia and Europe. He was Australian 125cc Champion in both 1962 and 1963. He raced in Europe at Brands Hatch, the Isle of Man TT and various European Grand Prix events riding both Cotton andBultaco motorcycles in the 125cc and 250cc classes. Returning to Australia in 1968 with his first wife Virginia, he continued racing and then opened a shop, Kevin Cass Motorcycles in Wollongong, New South Wales.
Also an accomplished mechanical engineer, he designed and built numerous championship racing bikes and supported the likes of Peter Stronach, Dave Burgess, Murray Sayle, Warren Willing and the young Wayne Gardner in their racing careers. His bikes had particular success at the Castrol Six Hour race.
In the 1980s, Kevin Cass became increasingly involved in the restoration and re-building of vintage motorcycles. In 1995, he re-created the first 1925 circumnavigation of Australia on a motorcycle, a 16,000 km journey which took place on a 1924 Douglas.
---
Eric HINTON: 17 Dec 2015 – International motorcycle racer Eric Hinton died peacefully at Sydney's Westmead Hospital. Hinton had been in full-time care previously after suffering Parkinson's disease and the effects of a stroke. He was 81. A multiple Australian TT and Bathurst winner, Hinton then found international success, first venturing abroad in 1956 as a member of Australia's official Isle of Man TT team. It was the start of a nine-year international career during which time he won the 1959 500cc Czech Grand Prix at Brno. Hinton returned to Australia in 1969 and continued to compete domestically until the early 1970's.
---
Fabrizio PIROVANO: 12 June 2016 – Sadly lost after a long Battle with Cancer. World Superbike Championship contender and World Supersport Champion.
John SURTEES: (11 February 1934 – 10 March 2017) was an English Grand Prix motorcycle road racer and Formula One driver. He was a four-time 500cc motorcycle World Champion – winning that title in 1956, 1958, 1959 and 1960 – the Formula One World Champion in 1964, and remains the only person to have won World Championships on both two and four wheels.
Surtees was the son of a south London motorcycle dealer. He had his first professional outing in the sidecar of his father's Vincent, which they won. However, when race officials discovered Surtees's age, they were disqualified. He entered his first race at 15 in a grasstrack competition. In 1950, at the age of 16, he went to work for the Vincent factory as an apprentice. He made his first headlines in 1951 when he gave Norton star Geoff Duke a strong challenge in an ACU race at the Thruxton Circuit.
In 1955, Norton race chief Joe Craig gave Surtees his first factory sponsored ride aboard the Nortons. He finished the year by beating reigning world champion Duke at Silverstone and then at Brands Hatch. However, with Norton in financial trouble and uncertain about their racing plans, Surtees accepted an offer to race for the MV Agusta factory racing team, where he soon earned the nickname figlio del vento (son of the wind).
In 1956 Surtees won the 500cc world championship, MV Agusta's first in the senior class. In this Surtees was assisted by the FIM's decision to ban the defending champion, Geoff Duke, for six months because of his support for a riders' strike for more starting money. In the 1957 season, the MV Agustas were no match for the Gileras and Surtees battled to a third-place finish aboard a 1957 MV Agusta 500 Quattro.
When Gilera and Moto Guzzi pulled out of Grand Prix racing at the end of 1957, Surtees and MV Agusta went on to dominate the competition in the two larger displacement classes. In 1958, 1959 and 1960, he won 32 out of 39 races and became the first man to win the Senior TT at the Isle of Man TT three years in succession.
---
Eddie DOW:  Passed away 17 March 2017 – Born and raised in Derbyshire, young Eddie was a regular visitor to Donington Park race track which, ultimately, led to an apprenticeship with Rolls-Royce. He was an active Home Guardsman in the early part of the Second World War, joining the regular Army in 1945. His enthusiasm for motorcycles soon saw Lieutenant [and eventually Captain] Dow leading teams of military riders in civilian events.
Dow himself was a natural all-round competitor, reflected in some great results until a deliberate retirement from competition in 1956. Mounted exclusively on BSA Gold Stars the highlights include: three ISDT gold medals, a 1st class award in 1953's Scottish Six Days Trial, first place in the 1956 Senior Clubman's TT, followed one month later by victory at Thruxton's nine-hour production machine race [on the same machine], partnered with Eddie Crooks.
Geoff Duke opened Banbury's Taylor-Dow emporium in 1956. Given Eddie's well-established links with BSA it was a logical step to specialise in the sale of Gold Stars, whereupon the shop became renowned for an extensive range of performance options. After the "Goldie" ceased production in 1959 Eddie created a Rocket Gold Star prototype, based on BSA's 650cc twin. When the BSA factory finally awoke to its potential it was grabbed with open arms and became a huge sales success.
Taylor Dow later evolved into a dealership for Renault cars. In his retirement Eddie lived "relatively quietly" at Sulgrave in Northampton-shire.
---
Jack Ahearn: October 8 1924 – April 10 2017 – Jack Ahearn, the runner up in the 1964 world 500 championship, has died in Lismore, Australia, aged 92. Ahearn won the 1964 Finnish GP at Imatra at age 39 on a privately entered Norton and was second in the championship to MV's Mike Hailwood. He raced for a quarter of a century, was a multiple winner at Bathurst and represented Australia many times at the Isle of Man TT, beginning in 1954 when he was 29. Ahearn was one of the great characters of the famed Continental Circus, racing in Europe in 1954-55, 1958 and 1962-66.
---
Nicky HAYDEN: 22 May 2017 – Former MotoGP champion Nicky Hayden died five days after he was hit by a car while cycling in eastern Italy. The 35-year-old American had been in intensive care with severe brain damage since he was struck by a car while training on his bicycle along Italy's Adriatic Coast.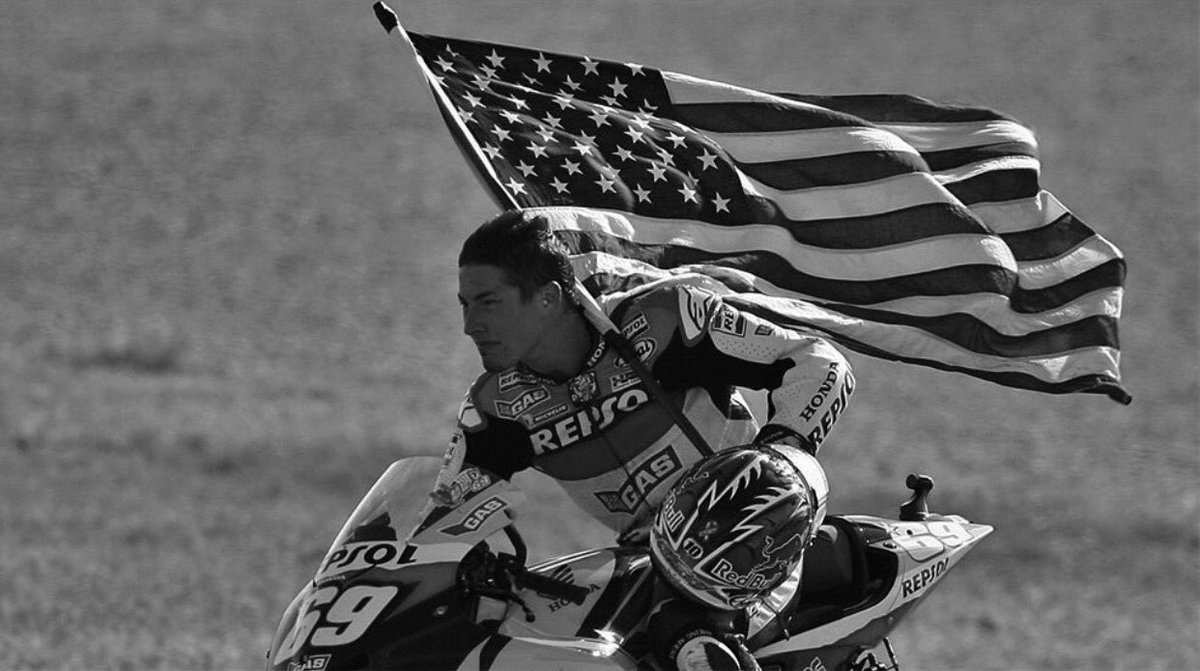 Nicholas "Nicky" Patrick Hayden (July 30, 1981 – May 22, 2017), nicknamed The Kentucky Kid, was a popular American professional motorcycle racer who won the MotoGP World Championship in 2006.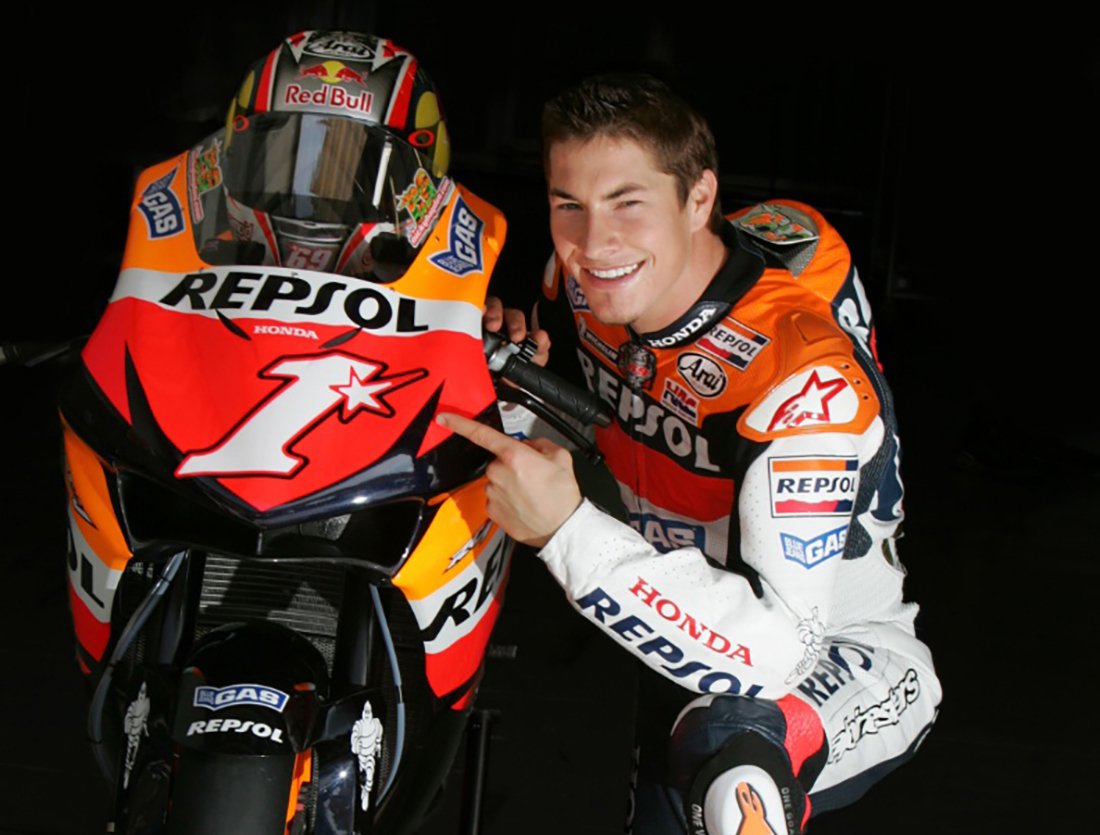 ---